Terra Kulture – Famous and Expensive Nigerian art works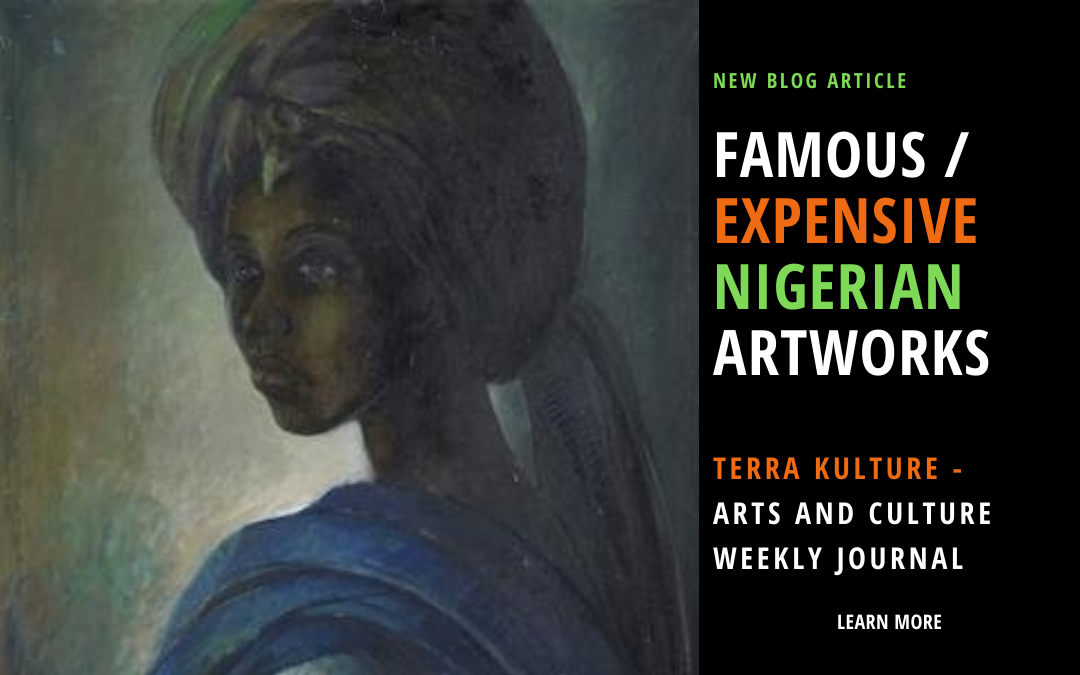 11 Famous and Expensive Nigerian art works
Art is famous in Africa and it is closely intertwined in the history of the continent. In the absence of history books, artworks and artifacts have been used to pass down information about our culture from generation to generation. The rich culture of making art has also been passed down as Africa is blessed with many talented artists, and Nigeria is home to many of these artists, but despite this, the value of art in Africa is more understated than it should be. African art should be more celebrated, especially Nigerian art. Here we would be showcasing a number of famous Nigerian artworks that have been sold for really expensive prices.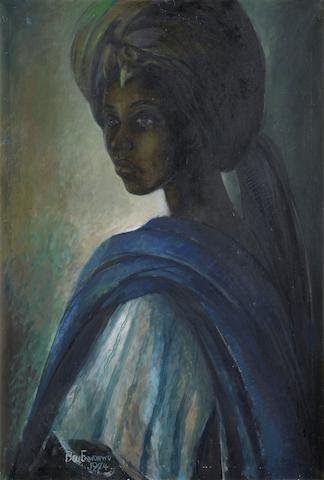 This long lost Nigerian painting known as the African Mona Lisa, sold for a record fee of almost $2m in 2018. The portrait of the Ife royal Princess Adetutu Ademiluyi, was missing for more than twenty years until it was discovered in a London flat in 2017. The painting is one of three depictions of the princess painted in 1973, which became a symbol of Nigerian reconciliation after the war for Biafran independence painted by perhaps Nigeria's most renowned contemporary artist, Ben Enwonwu.
2. Bush Babes, Njideka Akunyili Crosby.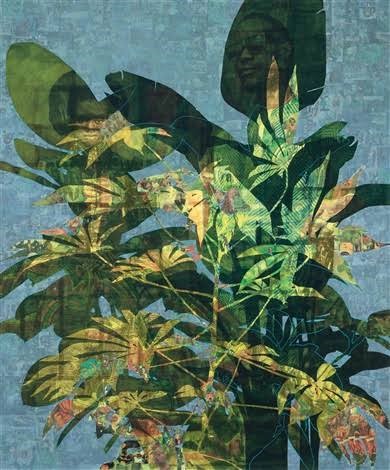 Breaking the record for Nigerian artists when it was sold for $3.3m at Sotheby's in the same year. Bush Babes was painted by famous painter Njideka Akunyili Crosby, and is an intricate mesh of green leaves and images on a canvas
3. Compound Leaf, Toyin Ojih Odutola.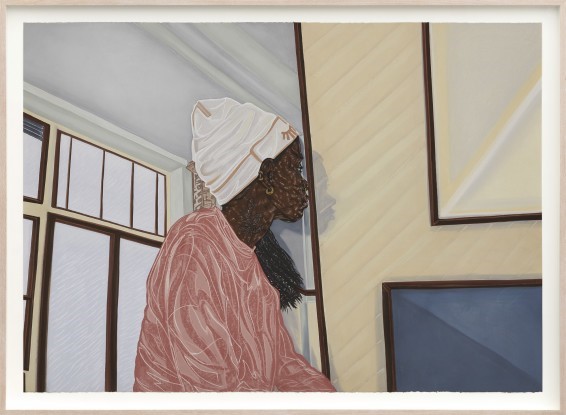 The painting by Toyin ranks as the 3rd most expensive Nigerian art as it sold for almost $600k at Sotheby's in 2019. This is an intricately rendered self-portrait in charcoal, soft pastel hues, and pencil on paper. Its subtle hues, colors, and shadows showcase the excellence of the painting. The artist's tattoo of a leaf, from which the title takes its name, is subtly visible on her neck as if blooming from within her.
4. Ijo Forest Spirit Figure, Nigeria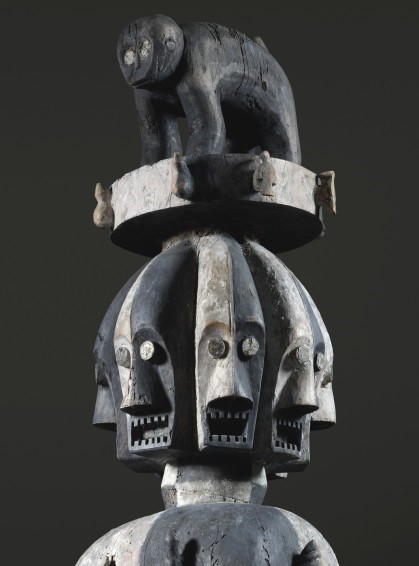 This artifact is listed at the Sotheby's auction house and is estimated to be worth up to $1m. This awe-inspiring figure with seven heads and 14 eyes is emblematic of its role in safeguarding a community and promoting well-being. It was made by the Ijo peoples who reside amid the many estuaries and mangrove forests of the vast Niger Delta.
5. A Magnificent and Highly Important Benin Head of an Oba, Nigeria, circa 1575-1625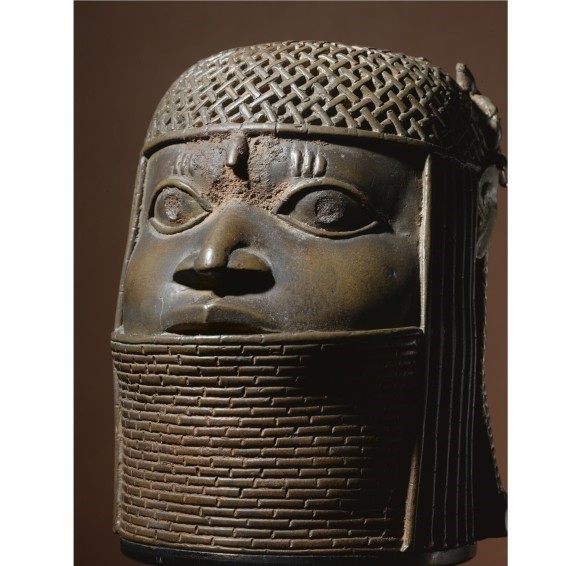 This artefact sold for $4.7m at the auction. A very important cultural symbol of the Benin people in Nigeria and for the country as a whole. It depicts the head and gear of an Oba, the ruler of the old Benin Kingdom.
This wooden sculpture was created by an unknown Yoruba artist and it is an intricate work that depicts a kneeling maternal figure with a nursing child in her arms while carrying another child on her back. Figures created in this form are commonly called agere ifa, this term refers to any carved container that is used to store the sacred palm nuts that are an important element in the Yoruba ritual of divination.
7. Head, Edo, Kingdom of Benin, Nigeria, 17th-18th century
Another wooden sculpture depicting the head of a Benin Oba adorned with his royal regalia. This sculpture sold for $2.2m in 2017. The huge sums paid for these sculptures of Benin rulers displays how special and valuable they are
8. Ankara na-nma, Clement Mmaduaka Nwafor.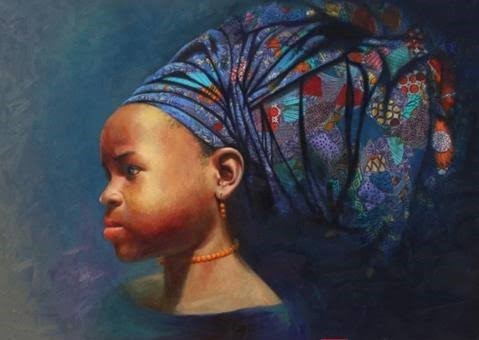 Clement Mmaduako Nwafor is a self-taught painter who has drawn himself into the Nigerian art Hall of fame with many paintings like Ankara Na Nma. His medium of choice in these marvelous pieces is oil on canvas and he sometimes incorporates pieces of fabric to make collages. The painting is one of these as it is made beautifully with colourful fabrics painted with scrupulousness. The work was painted in 2016 and brought the painter many art awards including 1st position of the 5th National Visual Arts Competition in Nigeria.
9. Benin Ivory Mask of Queen Idia – The Festac Mask.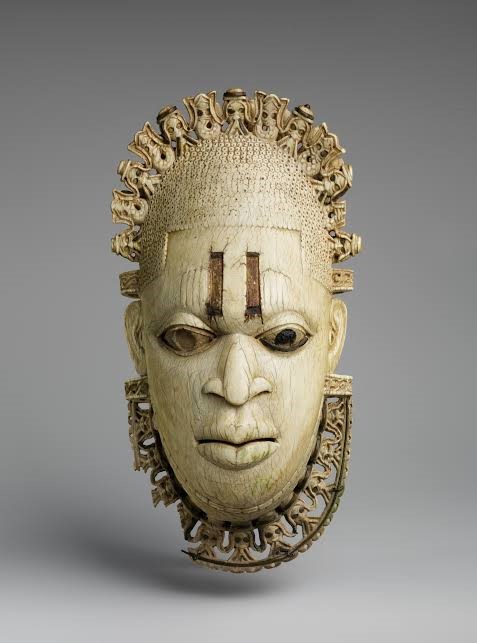 Although this famous artefact was lost to the British during the colonial age and squabbles about who should keep it, the image became a symbol for Pan Africanism and famously the symbol for the Festival for Arts and Culture which was held in Lagos in 1977. The mask has been traced back to the old Benin Kingdom in Edo state. The name of the piece is precisely Benin Ivory Mask of Queen Idia, another indication of the artistic ability of the Benin people and also their art appreciation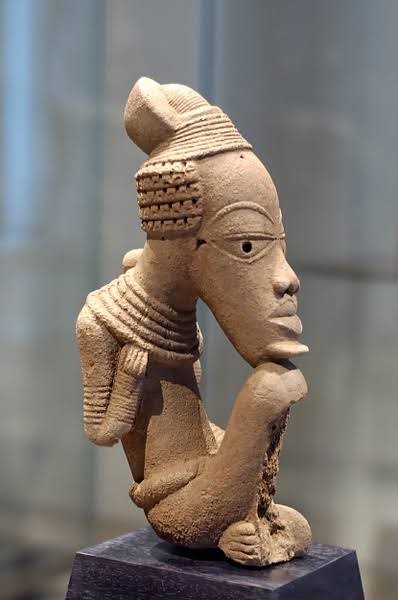 Nok Art refers to the artwork created by the Nok people, which is precisely present-day Kaduna State but used to encompass more than the area. Nok art provides an insight into the arts and culture of the Nok people. The art pieces and sculptures were discovered sometime in 1929 during archaeological excavations and immediately became a prominent discovery as its magnificence is instantly clear. The most famous Nok art pieces are the terra-cotta figures and terra-wita heads, they are the pieces that are seen in popular media. Terra-cotta means baked clay. These artworks remain iconic because they hold the key to the knowledge of a group of people who existed in Nigeria before history as we know it.
11. The Last Supper, Bruce Onobrakpeya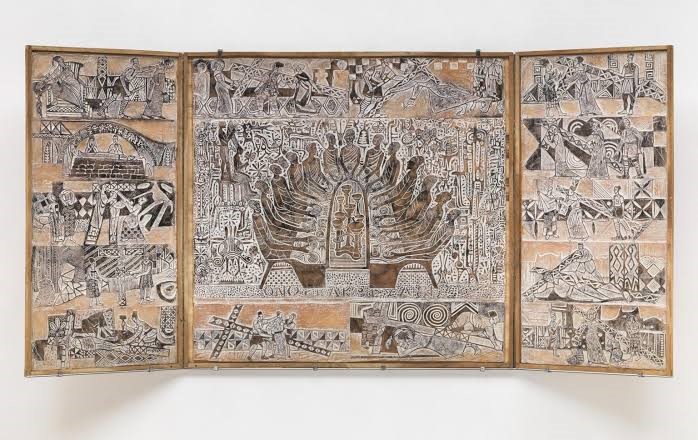 This artwork is a thing of marvel. The intricate lines and details involved are so impressive that seeing it in the picture makes it difficult to believe that it is perfectly engraved in wood. It is a masterpiece made by Bruce Onobrakpeya and it cemented his place as an art legend in Nigeria. Bruce is a printmaker, painter and sculptor. The Last Supper stands not just as one of his finest works, but also as one of the finest works in Nigeria.