THEATRE @TERRA AND QUEBIC 4 PRODUCTIONS LTD
PRESENTS, A
FEMI BRANCH'S: CLASSIC COMEDY, A FESTERING DIALOGUE…
"PO"
A hilarious drama saturated with witty probing comical dialogue, that induces laughter. This is one master piece drama, that will help take away your stress and aid wellness after a good laugh outing.
STARRING:
            SENATOR THE COMEDIAN
            NNAMDI AGBO
            ANIEFIOK IYANG
DATES OF SHOWING 5TH, 6TH, 12TH, 13TH,19TH 20TH, 26TH AND 27TH OF SATURDAYS AND SUNDAYS IN MARCH, 2022.
TIME OF SHOWING: 5.30PM AND 7.30PM
ENTRY FEE: =N= 5,000 FLAT
VENUE: TERRA KULTURE OPEN AIR SPACE…
PLOT 1376, TIAMIYU SAVAGE STREET VICTORIA ISLAND LAGOS.
Come with your family and friends and have fun like never before.
Directed by:
William Benson (AKA General APEH of Ocholuje Kingdom).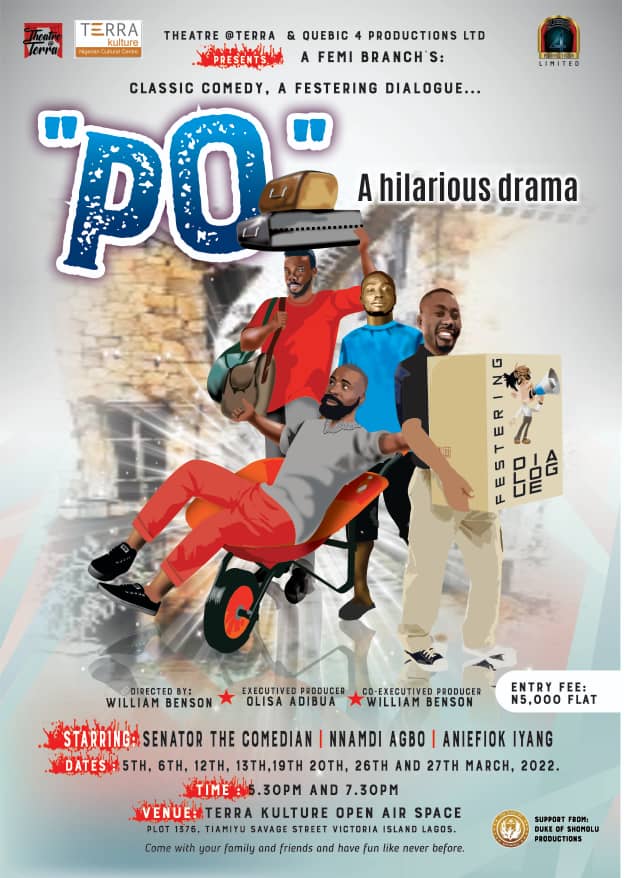 Copyright © 2023 All right reserved.